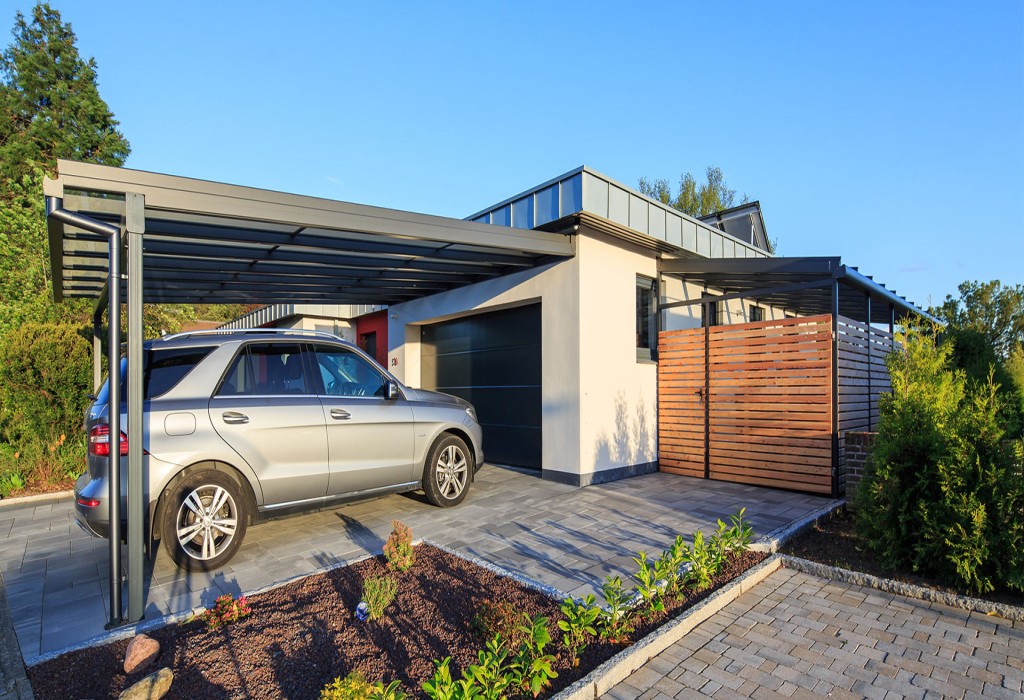 Optimal protection for your car, motorcycle or bicycle that matches the look of your house and offers individual design options.
Effective weather protection for your car, motorcycle or bicycle
With the help of our specialist partners, you can configure a carport to meet your exact needs. There is no limit to the design possibilities. Learn more about your options:
Custom aluminium carports
A carport is more than just a safe place to park your car – it complements the look of your home and offers protection for the things you value. Our modern aluminium carports are tailored to your individual needs. Whether as an attachment on the wall of your house or a free-standing structure; a flat roof or a saddle roof; white, green or grey – our specialist partners will work with you to plan your carport just as you imagine it. Safety, comfort and design come together to meet your specific needs. High-quality aluminium carports by heroal are easy to install, cost-effective and convenient. The broad range of system accessories ensures a wide variety of design options and maximum system safety.
Applications for aluminium carports
We will help you to find the right carport for your needs. Since our carports are custom-manufactured and available in a wide range of designs, we can offer the right solution for any application. Among other things, our carports are perfect for:
---
---
Product features of heroal carports
Carport solutions by heroal are very durable and weather-resistant. We would be happy to advise you on the designs options and functional possibilities for your carport. Give us a call, visit our specialist partners and find your garage door inspiration.
Protection against wind and weather
Durable, stable and long-lasting
Bright and long-lasting colour
Robust and easy to clean
Ecologically sustainable
---
---
Find the right heroal specialist
Click here to search for a specialist partner
Search >
---
Further reading for your interest
---
over 3,500 specialist partners worldwide
products with tested quality
family-run company with a long tradition
made in Germany
personalised design
comprehensive range of services
superior technical solutions
---