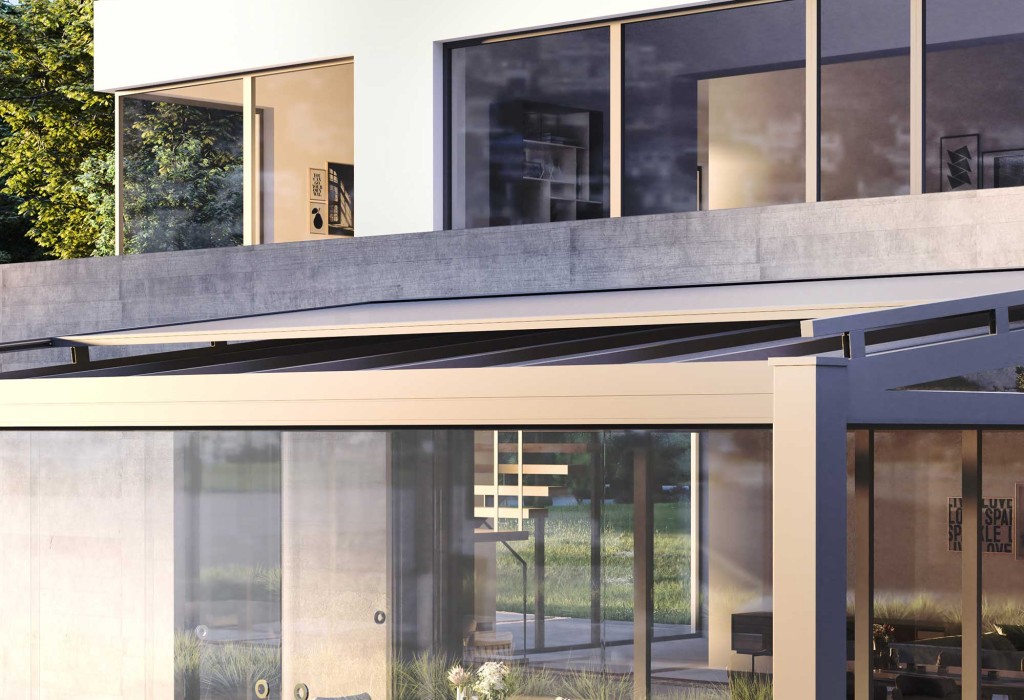 Optimal protection against heat and glaring light for your patio canopy. Enjoy perfect shelter, even on hot summer's days.
On-glass awnings as sun protection for patio canopies and conservatories
Patio canopies and conservatories extend your living space and enable you to use your outdoor area all year round, regardless of the weather. With direct sun radiation, however, the room under large panes of glass heats up relatively quickly. A conservatory awning designed as an on-glass awning for horizontal and slanted aluminium roofs does not only provide effective protection against direct sun radiation, it also keeps the temperature under your patio canopy or in your conservatory constant, creating a pleasant climate. On-glass awnings in tried and tested heroal quality "Made in Germany" can be made to measure and individually designed. They harmoniously integrate into your heroal patio canopy and are also suited for a retrofit at a later date. We will show you what matters most when purchasing a conservatory awning for installation above the glass.
What is so special about heroal conservatory awnings?
Horizontal awning as sun protection for the patio canopy
Advantages of an on-glass awning
---
How does a conservatory awning function?
The functioning of a conservatory awning is relatively simple. The sun protection textile of the on-glass awning is installed and tensioned between two guide rails fixed to the rafters of the patio canopy. The innovative zip technology provides for increased stability and resistance against wind. Comparable to a zip fastener, the textile is guided in the rails installed on the roof. In addition, a counter draw system provides for an optimal tensioning of the textile. That way, heroal conservatory awnings are firmly held in their guide rails even in strong winds, ensuring reliable and safe operation. An electric control winds the textile up into an integrated box invisible from the outside. So the conservatory awning is optimally protected against moisture and soiling.
The horizontal on-glass awning heroal HS is optimally adapted to the patio canopy system heroal OR and can also be installed at a later date without disrupting the roof design – for a harmonious appearance and perfect look of the patio canopy.
---
---
heroal HS conservatory awnings
Design variants of heroal conservatory awnings
heroal HS conservatory awnings for patio canopies stand out for their modern design and high-quality colouring. This sun protection can be perfectly matched with the vertical awning heroal VS Z OR. Please see here for a selection of colours and textiles available for heroal HS on-glass awnings.
---
More advantages of heroal conservatory awnings at a glance
Optimal supplement of patio canopy system heroal OR
Effective protection against heat
Harmonious integration into patio canopy
Retrofit possible
Highest textile tensioning
High wind resistance
Span width up to 6 m
Reduction of sun radiation by up to 75 %
---
Find the right heroal specialist
Click here to search for a specialist partner
Search >
---
Further reading for your interest
---
over 3,500 specialist partners worldwide
products with tested quality
family-run company with a long tradition
made in Germany
personalised design
comprehensive range of services
superior technical solutions
---