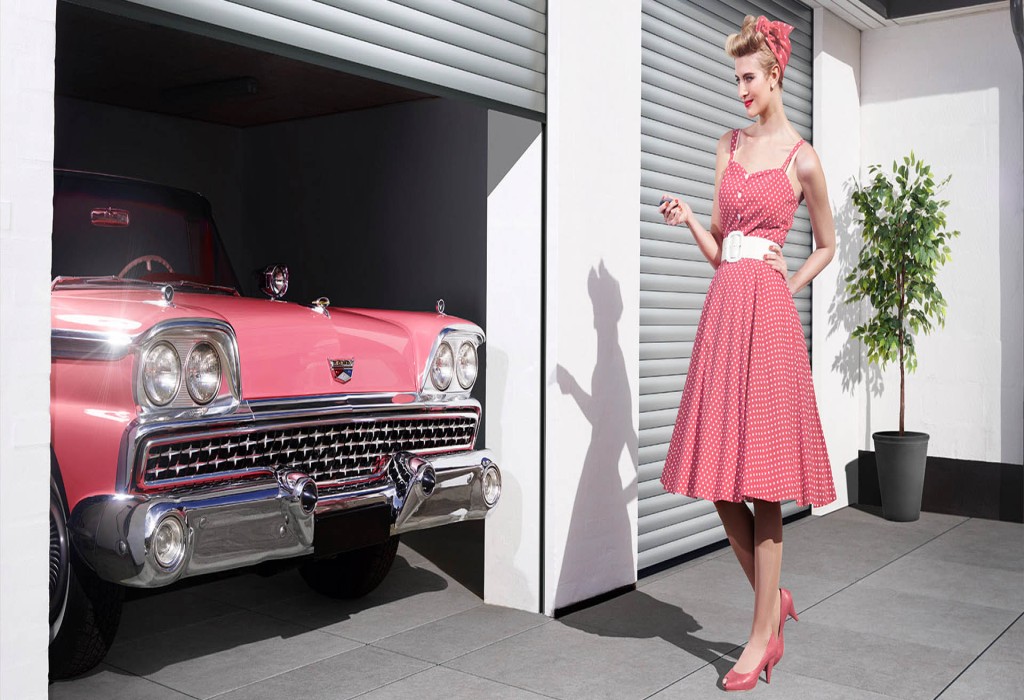 Suitable for any installation situation, TÜV-certified burglar resistance and convenient operation.
Roller garage doors, overhead doors and roller grilles
Garage doors made of aluminium for any installation situation
Roller garage doors have to meet the highest standards. You should not compromise in your choice of garage doors in terms of design, safety or functionality. Whether it is a roller garage door, overhead door or roller grille: the choice of a garage door depends on the individual requirements and installation situation. Aluminium roller garage doors by heroal can be adapted to your requirements and your garage. We will show you what to look out for when choosing the right door.
What makes heroal aluminium roller garage doors stand out?
Aluminium roller garage doors from A to Z
---
Which roller garage door is right for me?
Whether it is for your home or for use at commercial and industrial locations: With a wide variety of equipment options, aluminium roller garage systems by heroal can be flexibly adapted to different installation situations. heroal will support you in choosing the right roller garage system to meet your needs. We provide roller garage doors for very small garages, very large garages, garages with particularly low lintel heights, and everything in between. But the type of system is not the only option you have to choose from. There are many other details that should be considered when choosing a garage door, such as the colour, the slat surface and the drive options. You can also make your roller garage door more comfortable and safer with accessories such as a smart home system, soft start and soft stop. Learn more about the differences, special features and extras available for roller garage doors and find the right garage door for your needs.
Roller garage door, overhead door or roller grille?
Choosing the right roller garage door system is the basis for all further considerations concerning your garage door. Roller garage doors by heroal are available in a wide variety of designs to meet your different requirements. Four different systems are available: the two roller garage door systems, an overhead door system and a roller grille system, each of which can be adapted to your individual needs with different door slats, installation types, colours and various extras. Here you can find out about the differences and decide which system is right for you.
You can choose from a variety of roller garage door profiles depending on the roller garage door system you choose. Different options are available for the standard profile, see-through profile, grille profile and ventilation profile. In addition, roller door slats can be roll-formed or extruded. Find out more about the difference between roll-formed and extruded roller door slats and which dimensions can be achieved with which slats in terms of width and height.
Roll-formed or extruded roller door slats?
In roll forming, aluminium strips are passed through successive rollers and formed into the desired shape for the slats piece-by-piece. These slats have a particularly high wind load resistance compared to an extruded slat. Extruded profiles are made from an aluminium press block that is heated and then pressed. The result is a slat in the desired shape with a very high material thickness, which makes the slat and the garage door overall more stable and robust. An extruded slat is particularly useful when you need increased safety or high stability.
Roller garage door installation - open or closed?
With so many advantages of electric roller garage doors, a garage door without an electric drive is almost unthinkable today. In addition to the convenience of remote controls and smartphone controls, security also plays a major role. For example, automatic obstacle detection can protect against accidents and injuries caused by closing doors. There are a variety of options for installing your garage door drive. We offer roller garage doors with a geared motor, overhead doors with side-mounted drives and overhead doors with centre-mounted drives.
Roller garage doors in all RAL-colours
There are no limits to creativity in the design of roller garage door surfaces. In addition to standard and special colours, up to 200 colours from the RAL colour palette are available on request. Based on the roller shutter's requirements, the coating technology can be double-layer thick lacquer, decorative foil coating or hwr powder coating. The high-quality finishing processes for the surface of the roller garage door slats and all components are subject to regular testing by independent testing institutes. Find out how the processes differ and learn about the advantages of the various colours and designs.
Roller garage door colours
There is no limits on colour design with heroal roller shutter systems. In addition to standard and special colours, colours from the RAL colour palette are available on request. Roller garage door slats can also be foil-coated in a variety of designs. Take a look at a small selection of the wide range of colours available for heroal roller garage door systems.
Extras and accessories for roller garage doors
Equip your roller garage door, overhead door or roller grille with extras and accessories that provide you with additional safety and comfort. Enjoy the benefits of smart home compatibility for heroal garage doors as well as protection against burglary and accidents. In addition, heroal offers innovative roller shutter technologies that protect and improve the operation of your garage doors, ensuring an increased service life for your roller garage door system.
Product features of heroal aluminium roller garage doors at a glance
heroal roller garage doors are setting the standards for the future of garage doors. See for yourself. We would be happy to show you the high quality, design diversity and functional possibilities of heroal roller garage doors. Call us or visit our specialist partners and find your garage door inspiration. heroal roller garage doors achieve the best results:
opening and closing speed
energy efficiency
service life
burglary resistance
sound insulation and qiuet operation
protection against hail and storms
---
Find the right heroal specialist
Click here to search for a specialist partner
Search >
---
Further reading for your interest
---
over 3,500 specialist partners worldwide
products with tested quality
family-run company with a long tradition
made in Germany
personalised design
comprehensive range of services
superior technical solutions
---